Please find our pricing structure below and an outline of the process you can expect when you undergo vein treatment.
No major incisions and no hospitalisation means you have less routine disruptions and you will be back on your feet the same day. We have flexible treatment options and our outpatient sessions usually take less than an hour. These include:
Clinical examination and a Colour Duplex Ultrasound Scan is performed to accurately determine the underlying sources causing your problems.
Without this full and detailed scan by a vascular specialist it is impossible to expertly assess your veins or determine the exact treatment you require.
Stage 2: Destruction of the Varicose Vein Sources
The most common primary treatment used is Endovenous Laser Ablation (EVLA). 
Depending on your examination, some patients need or request alternative treatments such as EVLA, UGS and Superglue. Phlebectomy is often performed for bulging and tortuous varicose veins close to the skin.
Patients with minor varicose or thread veins may not need that stage.
After the destruction of the source, the varicose veins visible on the outside of your legs (which branch off this source) may disappear, or get smaller, but it is normal for further direct treatment to these to be required.
This is normally undertaken using Foam Sclerotherapy and Microsclerotherapy but some patients are best treated with Phlebectomies/Avulsions.
Stage 4: Cosmetic Finishing Touches
Once the underlying source and larger varicose veins have been dealt with then symptoms should resolve but there may be some persistent cosmetically unattractive smaller veins and thread or spider veins remaining. 
These are best dealt with using a combination of Foam Sclerotherapy and Microsclerotherapy Injections.
The first visit – what happens at the first consultation?
Discussion
The consultation will begin with a conversation regarding your vein problems (whether cosmetic, symptomatic or both). They will also discuss your past medical history including any previous vein treatment you may have had. 
Scan
Dr Pin will then undertake a colour duplex ultrasound scan on your legs to see what, if anything, is causing your vein problems. 
Dr Pin will perform the scan personally. This is really important so that they have a first-hand view of your veins rather than relying on another specialist's notes. 
Plan
We will discuss with you directly the results of the scan and will advise the treatment options suitable for you, including the benefits and the risks, and provide you with a proposed treatment plan.
95% of patients who present with varicose veins require EVLA and Foam Sclerotherapy Injections.
Cost
Dr Pin will discuss the treatment costs involved in line with our fixed cost prices (per leg not per vein). All costs will be confirmed in writing to you. There will be adequate time allocated for any questions or queries. 
Consultation Fee
An initial consultation with Dr Pin costs $240 and includes the Colour Duplex Ultrasound Scan of your legs. The medicare rebate is $130.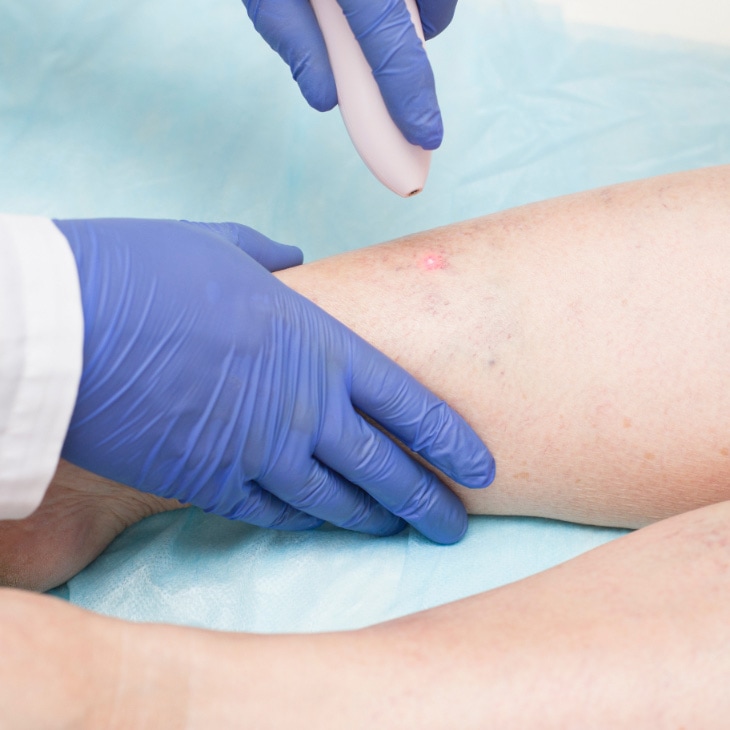 Book your initial consultation online, or go to our contact page and make an enquiry.